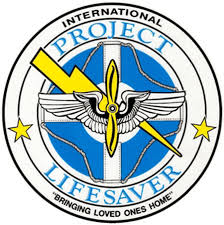 PROJECT LIFESAVER
Caregivers responsible for the safety of loved ones with Alzheimer's, dementia, autism or other disorders, often live in fear that they will wander off and become lost. Project Lifesaver provides wristband transmitters at no cost to people with these disorders when they have a history of wandering and becoming lost. Project Lifesaver has eased that fear for many Madison County residents. The program is designed to track participants who are traveling on foot; however, it also has proved to be an asset when other scenarios arise. Project Lifesaver maintains individual profiles that include vital statistics on its enrolled participants that are readily available if they wander and become lost.

The Pilot Club of Huntsville is proud to be partnering with the Madison County Sheriff's Office to provide Project Lifesaver (PLS) in our community.
Project Lifesaver is more than a passive ID bracelet. It's an active system relying on state-of-the-art technology and a specially trained search and rescue team. Clients enrolled in the PLS program wear bracelets that emit a personalized tracking signal. When caregivers notify the Madison County Sheriff's Office that the client is missing, a search and rescue team begins searching with the mobile locater tracking system. Search times have been reduced from hours and days to minutes. Recovery times average less than 30 minutes. In hundreds of PLS searches throughout the US, there have been no reported deaths or serious injuries.

Project Lifesaver is the nation's most effective program for locating and rescuing individuals that wander and are missing. In 1999, the Chesapeake, Va., Sheriff's Office and the 43rd Virginia Search and Rescue Company began Project Lifesaver, which now operates in 35 states and Canada.The Madison County Chapter of the Project Life Saver currently to date has over 30 Alzheimer and Autistic people on the program.
Click here to visit the Project Lifesaver International web site:
http://www.projectlifesaver.org/

Click here to visit the Pilot Club of Huntsville web site:
http://www.pilotclubofhuntsville.com/PCoH/Welcome.html
Contact information
Sergeant Pete Hose - phose@madisoncountyal.gov
Deputy Rick Brown - rbrown@madisoncountyal.gov
(256) 722-7181 – Non-Emergency 911