History of the Sheriff
-
Click photo for more information
About the Madison County Sheriff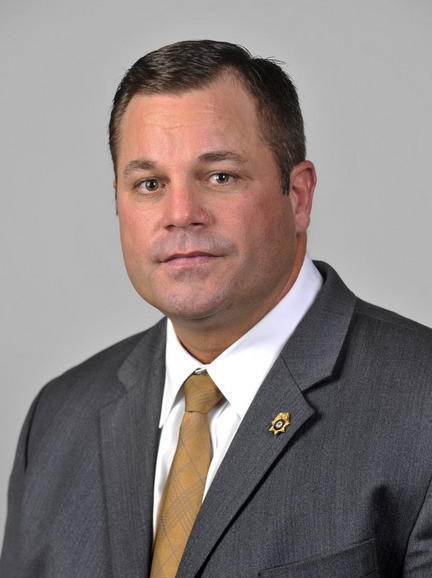 Kevin H. Turner, Madison County Sheriff
sheriff.turner@madisoncountyal.gov
256-532-3413
Kevin Turner is a veteran law enforcement officer who started his career with the Madison County Sheriff's Office as a patrol deputy in 1992. After his appointment, he attended the Alabama Peace Officers' Standards and Training Commission's (APOSTC) Basic Police Academy in Jacksonville, Alabama. Over the next 6 years he served as a patrol deputy, both a juvenile and adult investigator, and was appointed as North Alabama's first Gang Investigator after having received national certification from the National Gang Crime Research Center in Chicago, Illinois. After his gang investigator certification, Kevin was appointed as a Narcotics Agent/Gang Investigator with the North East Alabama Regional Drug Task Force. While at this assignment, Kevin led the effort to investigate, document, and track gang offenders that were involved with drug trafficking organizations and other violent crimes. This allowed Kevin to not only investigate and document known gang members in Huntsville/Madison County but throughout the other northern counties of Alabama.
In 1998, Kevin was appointed as an investigator with the Madison County District Attorney's Office, Criminal Investigations Division and The Violent Crime Unit, where he continued his duties as a gang investigator and participated in the investigation of such crimes as Homicide, Robbery and Home Invasions with other local agencies. As a gang investigator, Kevin assisted in the development and implementation of the area's first gang intelligence database and oversaw the implementation of the area's first federal grant that focused on early childhood intervention in gang violence. While continuing to work for the district attorney, Kevin was also assigned to the Madison County Drug Task Force as a Narcotics Agent and Gang Investigator, where his deep connections to the Huntsville/Madison County Community made him a sought after asset to other local and federal agencies.
During much of his career, Kevin was a member of the Madison-Morgan County Strategic Counter Drug Team(STAC) where he continued his career as a drug agent and gang investigator. He eventually assisted in the founding of the Alabama Gang Investigators Association where he served as the associations' founding President. While at the Madison-Morgan County Strategic CounterDrug Team(STAC) he was also assigned to the Major Investigations Unit which led the charge to investigate, disrupt, and dismantle drug trafficking organizations in Madison and surrounding counties. He has been decorated multiple times for his leadership and participation in some of the largest state and federal drug trafficking/money laundering cases in recent years.
In 2004 Kevin was recognized during the National Gang Crime Research Center by receiving the Frederick Milton Thrasher Award and serving as the keynote speaker for the national conference. The Thrasher Award was created in 1992 to honor and recognize outstanding individuals for superior service, accomplishments, or leadership in the fight to make our society safer from the threat posed by violent criminal gangs. In February 2005, he was appointed a Special Task Force Agent with the Bureau of Alcohol, Tobacco, Firearms, and Explosives(BATF) where he continued to work with Madison-Morgan County Strategic CounterDrug Team(STAC) specifically to investigate and federally prosecute gun crimes that occurred in Huntsville/Madison County. In September 2010, Kevin Turner was appointed as the Chief Investigator for the Madison County District Attorney's Office where he assumed command of a number of different units including the Criminal Investigations Division, The Worthless Check Unit, Restitution and Recovery, Computer Forensics Unit, as well as the Violent Crime Unit. During this time, Kevin continued to participate at the Madison-Morgan County Strategic CounterDrug Team(STAC) by assisting in both state and federal investigations.
Over his years of dedicated service, Kevin has developed strong ties to many local, state, and federal agencies which have routinely relied on him for his investigative expertise and experience. This has led to Kevin's involvement in over 30 homicide investigations and countless other crimes such as rape, robbery, drug trafficking, and many other specialized violent crimes.
As a result of his close connection to numerous other law enforcement partners, Kevin has been relied on not only for his investigative ability but his ability to communicate; to pass on to others, thru instruction, his knowledge as an investigator. He has served as an instructor for the National Gang Research Center, The Huntsville Police Department's Police Academy, N.E. Alabama Police Academy as well as instructor for countless in-service training modules for most local and state agencies. Kevin has dedicated himself over the past 24 years to teaching others outside of law enforcement about the dangers of drugs and gangs, including teaching in almost every level of grade school and high school, hospitals, churches, and other civic organizations.
---