Special Events
Law Enforcement Officer Memorial Day

In 1962, President Kennedy proclaimed May 15 as National Peace Officers Memorial Day. Each year in Washington DC at the Capitol, Law Enforcement Officers from around the world attend the National Memorial. Alabama's State Memorial is always the first Friday in May at 1100 am at the State Capitol. In Madison County, the Local Memorial Service will be held on Wednesday May 8th at 6:30 pm. The TL Blakemore Fraternal Order of Police Lodge #6 host the memorial and Law Enforcement Agencies from across Madison County participate to honor the twenty two law enforcement officers killed in the line of duty since the County was established in 1808. The public is invited and encouraged to attend.
---
ALABAMA LAW ENFORCEMENT TORCH RUN
for SPECIAL OLYMPIVS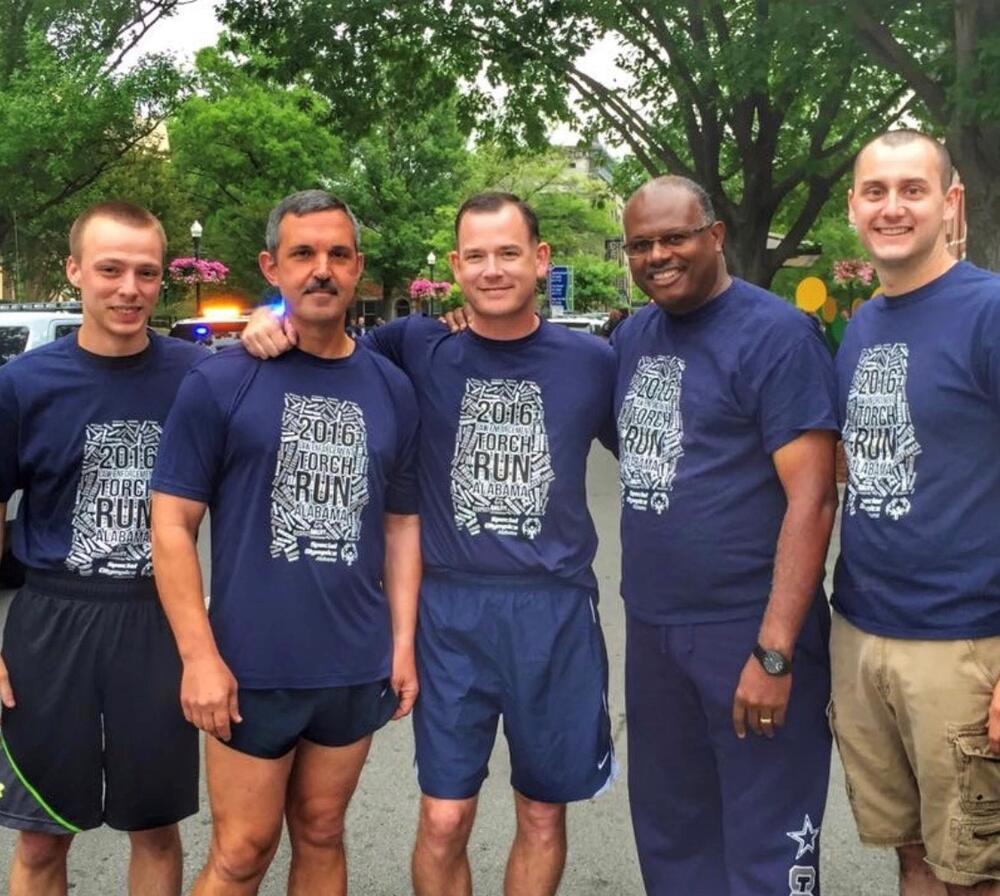 The Madison County Sheriff's Office has been a proud supporter of Special Olympics for many years, when they began their involvement by participating in the Law Enforcement's "Torch Run."
In 1981, Chief Richard LaMunyon of the Wichita, Kansas Police Department created the Law Enforcement Torch Run as a way to involve his officers in the community by running a torch relay for their local Special Olympics. Police Chief LaMunyon realized the importance of Special Olympics in the lives of Special Olympics athletes and conceived the idea to have law enforcement personnel obtain pledges from their family, friends and co-workers for a Torch Run, known as the "Flame of Hope." The first Torch Run involved six officers and they raised no money.
Today, the Torch Run has grown to include more than 150 runs in 50 nations. Since its inception 34 years ago, more than 150,000 law enforcement officers have raised $650 million for the Special Olympics movement worldwide. The Torch Run has become the largest grassroots fundraiser for Special Olympics.
The Alabama Law Enforcement Torch Run for Special Olympics unites officers from law enforcement agencies and corrections departments across the state in an effort to raise funds and awareness for Special Olympics Alabama. It is an actual running event in which law enforcement and athletes run the "Flame of Hope" to the Opening Ceremonies of local Special Olympics competitions, State Games, and National Summer or Winter Games. As part of the Opening Ceremonies, a law enforcement participant passes the Torch to a Special Olympics athlete to light the flame that signals the opening of the Games. The Torch Run efforts to raise funds include: collecting corporate sponsorships, T-shirt and hat donations and hosting unique fundraising events such as building sits, polar plunges, golf tournaments and waiting tables at local restaurants for tips. Each summer, law enforcement officials carry the "Flame of Hope" across the State of Alabama in The Torch Run Final Leg, culminating in the lighting of the cauldron to officially open the Special Olympics Alabama Summer Games in Troy, Al. The nearly 1000-mile, 4-day Torch Run Relay involves more than 2,000 law enforcement officers and personnel representing more than 200 law enforcement agencies across Alabama.
The Law Enforcement Torch Run is a nationwide event, and is the largest grassroots fundraiser for Special Olympics. Law Enforcement Officers throughout Alabama will participate in running the Flame of Hope in Madison County to open the Special Olympics Summer Games.
---
Christmas Prayers with a COP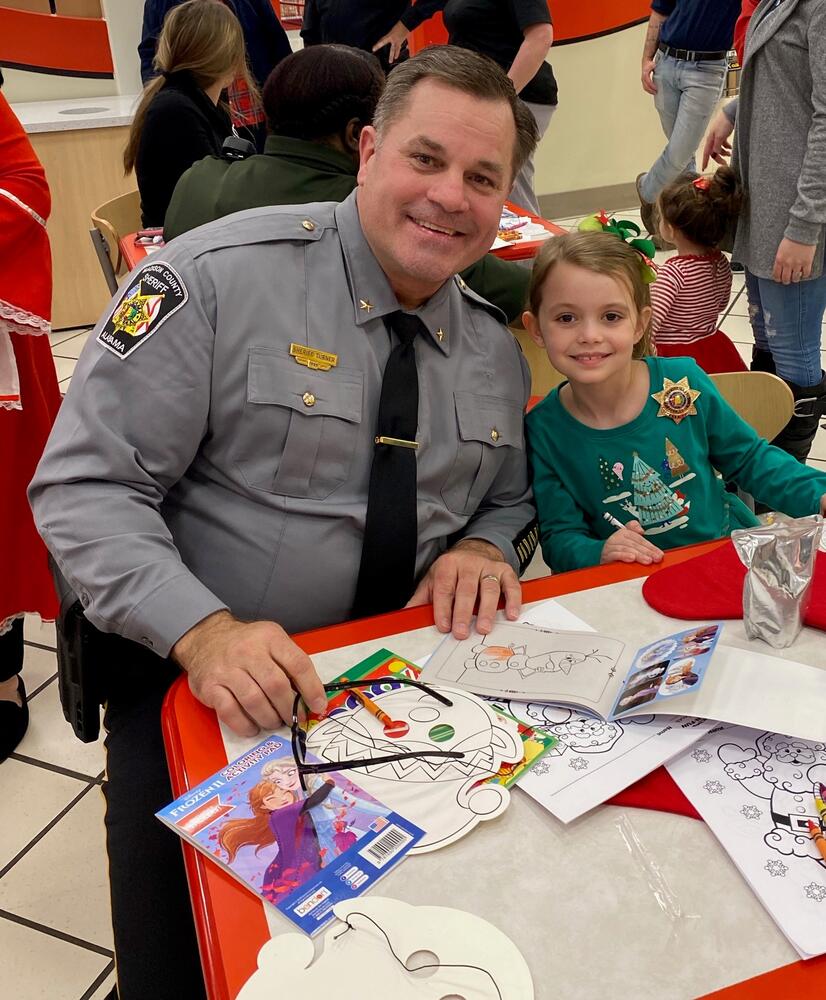 Each year ten families from Madison County are selected to be recipients of Target Gift Cards for Christmas. TL Blakemore Fraternal Order of Police Lodge #6, WAY-FM radio station and Inside-Out Ministries along with Target in Jones Valley sponsor the event. As families arrive they are greeted by Deputies from Madison County Sheriff's Office and Officers from Huntsville Police Department. Then the deputies and officers care for the families children by playing games and coloring in books so the families may shop for Christmas Gifts or family needs. Chaplains and command staff also participate in the event assisting in the care of the children. Families selected, for one reason or another may have had an occurrence during the past year that created a financial burden. Nominations are made through WAY-FM Radio and then vetted and selected by Inside-Out Ministries. The FOP provides the funds for the gift cards.
---
COPS ON TOP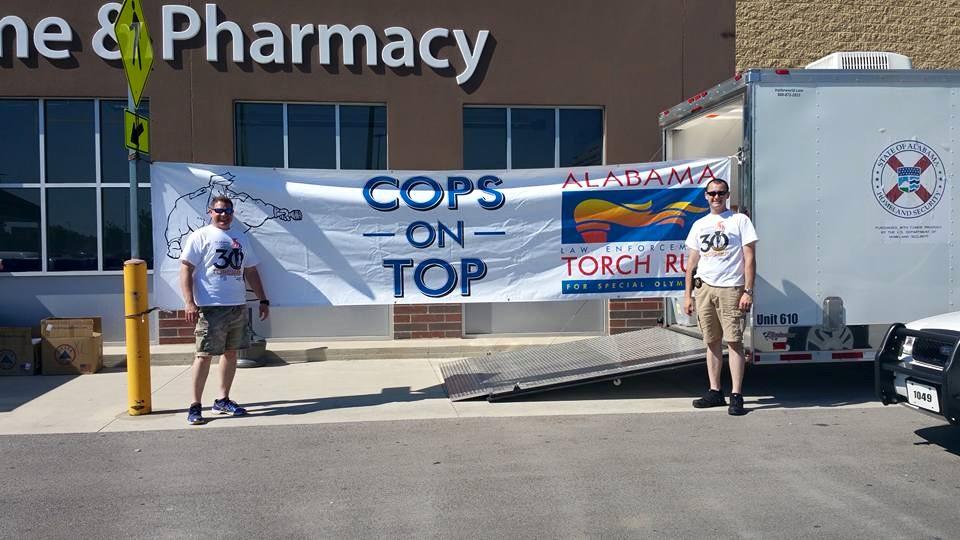 The Madison County Sheriff's Office is proud to be a part of the annual Law Enforcement Special Olympics "Cops on Top" fundraiser for Special Olympics. Held at a local Wal-Mart, law enforcement officers and volunteers from the Madison County Sheriff's Office participate in a weekend long event selling t-shirts and taking donations for Special Olympics. At the 2018 "Cops on Top" event, we were able to raise over $12,500 in three days from supporters within our community. This is the first Special Olympics fundraiser of the year that we conduct and it leads us into the Torch Run that is usually held in May. Special Olympics personnel from the Madison County Sheriff's Office starts selling the annual Torch Run t-shirts as early as March and inquires can be made by contacting us by email or telephone.
---
TIP-A-COP RED ROBIN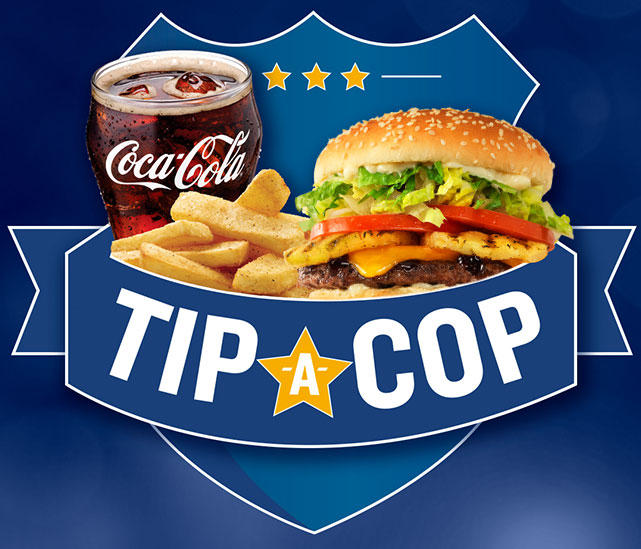 The Madison County Sheriff's Office is honored to participate in the annual "Tip a Cop" fundraiser that is sponsored by Red Robin Gourmet Burgers and the Alabama Law Enforcement Special Olympics. Held annually, law enforcement officers and volunteers from the Madison County Sheriff's Office assemble at both Red Robin locations within Madison County to raise money for Special Olympics. Working alongside Red Robin personnel, deputies deliver and refill non-alcoholic drinks for customers and then provide them with a form to "Tip a Cop". All donations are separate from the tips to Red Robin personnel and go directly to Special Olympics. We also sell the annual Torch Run t-shirts during this fundraiser. Last year we were able to raise over $1,300! This event is usually held in October and this year's dates will be announced closer to time.
---
SHOP WITH A HERO
Each December "Shop With a Hero" teams up with participating Walmart stores to provide Christmas for "at-risk" children in our Huntsville-Madison County school systems. "Heroes" will be paired with a child and given a gift card to go shopping in Walmart. "Heroes" are all military personnel (active and veterans), Law Enforcement Officers, Firefighters, Med Flight, HEMSI, Educators, Doctors, and Nurses.
Press Releases