Death Investigation Near Ditto Landing
08/17/2017
Madison County Sheriff's Office
Huntsville, Alabama
Blake L. Dorning-Sheriff
FOR IMMEDIATE RELEASE
August 17, 2017
The Madison County Sheriff's Office responded to an area West of Ditto Landing on August 16, 2017 at approximately 1700 hours. The call was in reference to a body being found in the Tennessee River. The victim appears to be a 30-40 year old white female approximately 5'1" tall and weighing approximately 110 pounds. She was found wearing black size 7 boots, size medium Zebra jeggings, and a size medium red t-shirt with white writing "I'm Still Killin' It". She had on a fleece style jacket and her hair is short to medium hair length believed to be brown in color. She also had 2 distinguishing tattoos. The first tattoo was located on the underside of the left inner wrist that says "Love" with a red heart on the end. The second tattoo was on the inside of the inner right forearm of what is believed to be a Treble Clef.
We have attached pictures of the Love tattoo as seen on the subject's body, the believed to be Treble Clef tattoo, and the clothing she was wearing when she was found. At the conclusion of the initial investigation, her body was recovered and transported to the Department of Forensic Science for an autopsy. An autopsy was performed in an effort to determine the cause of death and any particularly describing marks to assist in the identification of the subject.
We have conducted an area search for missing persons and at this time have not been able to match our recovered person with any missing person reports. The Madison County Sheriff's Office is requesting assistance from the media and the community to help identify the female body. The case is now classified as a Death Investigation. The autopsy has not yet yielded the cause of death.
Any information regarding the identification of the subject, please contact Inv. Parton (256) 533-8864. You may also relay information to the Madison County Sheriff's Office Communication Division at the non-emergency number at (256) 722-7181.
Questions concerning this release may be directed to Madison County Sheriff's Office Criminal Investigations Division (CID) Capt. Michael Salomonsky (256) 533-8820 or (256) 759-3315.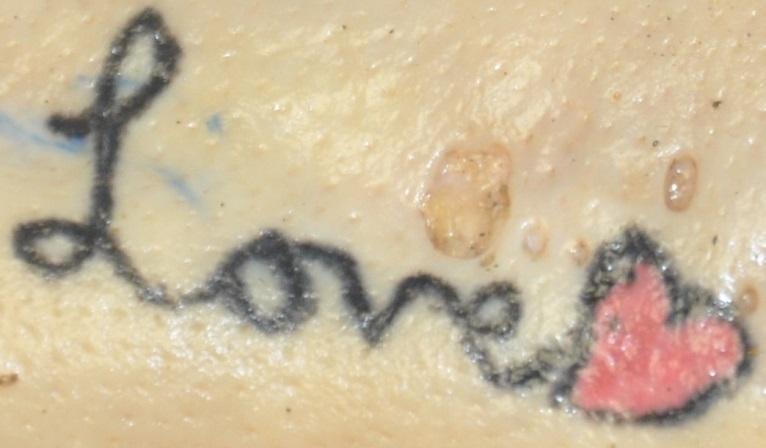 Tattoo on underside of the left inner wrist
Tattoo on the inside of the inner right forearm (possible representative examples)